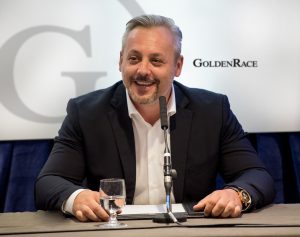 Betting on Football will be sponsored by Golden Race this year, and with the event fast approaching, we sat down with their CEO Martin Wachter in the run up to the sports betting trade event.
In a chat with Wachter, we discussed his involvement in the "Let's get digital – Where now for virtual sports?", alongside the pace of innovation in the sports betting industry and its relation to football tournaments.
#bofcon, which will take place at Stamford Bridge, will host 40 different conference sessions with 200 senior industry executives taking part in a number of panel discussions, and over 2,000 delegates from across the gambling industry. The event takes place from 19-22 March.
What are you looking forward to at Betting on Football?
Betting on Football is a great opportunity to strengthen bonds with other major executives in the industry. We are looking forward to meet with our new and existing clients, and network with other experts to exchange ideas about the latest trends.
We know about the frenzy and the quality of this event, so we are already booking meetings in advance, through our website, to discuss business opportunities during our attendance at the GoldenRace Bar.
What are you promoting at Betting on Football?
Among many other notable products and solutions, we are promoting the latest edition of our multi-awarded 3D Virtual Football. Presented at the beginning of this year, this enhanced version features advanced animations based on real players' movements, a completely new virtual stadium and player models created with scanning technologies.

This new virtual football product offers customisable competitions on demand, attractive formats – such as League, EuroChampions and World Cup – and all the betting markets, which our clients can find in our unique online betting platform.

Available for desktop and mobile devices, this cutting-edge platform has been specially designed to offer a complete real sportsbook with virtual results, providing a great number of features, such as a dynamic and responsive layout, and an instant control of odds, limits, and margins.

Operators will be also be interested in all the advances we have introduced for the retail experience. Added to the convenience of our live-rendering technologies, our virtual sports products have taken this year a visual and technical leap forward, with the inclusion of sports and casino games built from the ground up with HTML5 technology, refined UI, and a new back office solution redesigned to make it even easier for operators to manage and configure the system.

What industry innovation will capture the most attention in 2019?
Customers and operators increasingly require newer, faster, and more intuitive experiences. In this sense, HTML5 is one of the innovations which is helping to shape the future of virtual sports development; that is why we focused on building our games with this new technology.

HTML5 ensures a faster creation and improvement of virtual sports products, enabling more iterations and better results. These games run smoothly on various devices and operating systems, satisfying the requirements of reliability, scalability and security.

Intuitive back offices that allow fast integrations without needing a big structure, better graphics, and safe payment solutions are also key developments in which we are constantly investing, driving the growth of the football betting industry.

Do you expect speed of innovation to slow in the absence of a major football tournament?
We don't expect that. Football punters are very active. And even though the industry continues to grow every year, we have to innovate constantly. For that reason, for example, we offer the EuroChampions and World Cup experience in 3D virtual football, which is extremely popular.

For us, innovation is not only necessary, but also desired, since we are passionate about finding new ways of enhancing the gaming experience and providing more attractive and effective ways to generate revenue for our clients.
How can betting and football stakeholders work together more effectively?
Football stakeholders can benefit greatly from the engagement that sports betting generates in the general audience and in their own fans. It is well known that fans get more invested when the outcome of every competition has such a direct impact on their lives as the excitement of the betting experience.

This event offers the opportunity to discuss new ways of increasing the market share both for the betting industry and football stakeholders.

An integrated technological platform that allows operators to deliver fast services to their customers is one of the many advantages we can offer them.

Which parts of the conference agenda have caught your eye?

There many interesting subjects. I'm particularly looking forward to participate on Thursday in the panel about the future of virtual sports, discussing the advances in virtual simulations and what will be their place in the sports product portfolio.