Slotegrator, a leading software developer and aggregator in the online casino industry, has introduced its brand new list of business advisory and consultancy services for global iGaming markets in an interview with The Betting Coach. The company's new products and services are a fantastic complement to its already impressive portfolio.
Slotegrator now offers a full range of consulting services for gambling businesses, including license and certification acquisition, incorporation of the business structure necessary for licensing, financial advisory, trademark registration, compliance advisory, and other administrative and technical assistance related to setting up a gambling business.
This expansion of product offerings will allow Slotegrator to reach beyond its current horizons and strengthen its presence in markets where the company is already established. Slotegrator's products and services are designed to minimize the time, money, and effort required for casino operators to kickstart or expand their business, enabling the effective and efficient launch of a casino brand.
---
ABOUT SLOTEGRATOR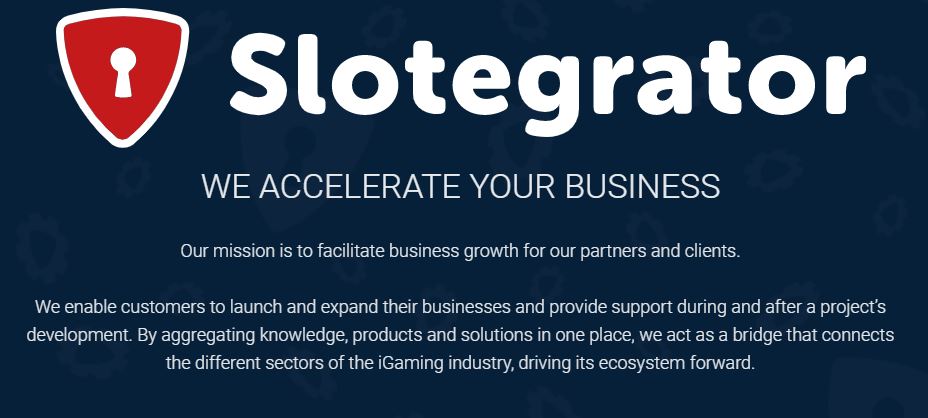 Slotegrator is an online casino software developer and aggregator. Since 2012 the company has been working to develop innovative products oriented to satisfying the most demanding customers in the B2B iGaming sector.
Slotegrator offers a full range of technical solutions for the successful launch and operation of online gambling businesses. The company's product line includes the development of online casino platforms according to clients' requests as well as White Label options, API integration of online casino games from the industry's best game developers, sportsbook software and data feeds, and a wide range of modular features to complement and enhance a gambling platform.
Visit the official website for all the details: www.slotegrator.pro
---
Chief Legal Officer J.D. Petr Stehlík and Sales Manager Nikolaj Plugatar told us about Slotegrator's new services and the value they bring to the iGaming market. Here is our exclusive interview:
The Betting Coach: Hi Petr, it's a pleasure to meet you! Slotegrator continues to amaze the industry and establish itself as a market leader by continually finding new ways to innovate. Could you tell us about your new services and the problems they solve for your customers?
Petr Stehlík: Hi! Thanks for getting in touch. Slotegrator already has a lot to be proud of, but part of what makes us who we are is that we never stop looking for new ways to better serve the market. For a long time, we have been providing a complete package of corporate and licensing services that help our clients do everything they need to do in order to run an online gaming website.
But we have recently restructured the way we work, and now we offer bespoke advisory services regarding legal, regulatory, and other issues which might give our customers a headache – all adjusted to their individual needs.
Now we offer a broader range of services that can be broken down to suit specific customer needs at a granular level — from advisory and assistance with all the steps and requirements to establish a corporate structure to obtaining gaming licenses or software certification to fully packaged solutions. And in addition to adding new services, we're also expanding our reach – the number of jurisdictions where we offer licensing services has grown during the last year. We have always offered licensing in the jurisdiction of Curacao, but now we also offer licensing services in Malta, the UK, Gibraltar, and the Isle of Man.
Through our consultation services, we provide advice on complicated and difficult legal, corporate and business matters, handling tricky questions like "What are the regulatory requirements in a given jurisdiction?" "In which country should an operator set up his company?" and "How do you efficiently set up due diligence processes?" We also offer operators help with trademark issues like registration, ongoing monitoring, and general advice, as well as assistance opening the bank accounts they need.
It is easy for an operator (or software provider) to get overwhelmed by constantly changing regulations, or even just the paperwork necessary to obtain a certain license. Luckily, we have a strong team of experts on board who have the know-how and experience to share with our customers. Our goal is to cost-effectively assist our clients and save their time by taking the complex tasks on our shoulders.
__________________________________________
The Betting Coach: Petr, as Chief Legal Executive at Slotegrator, you're in the perfect position to tell us how your new jurisdictional consultancy services and your company's regulatory expertise will help new operators establish a company structure.
Petr Stehlík: Regulations (like the legal environment in general) are often very complicated, and to make things worse, they change all the time. Without previous experience in a certain jurisdiction, operators and providers might be confused about its particular requirements – or they might not even know which country is best suited to their goals in the first place. There are a variety of factors which come into play when operators are deciding where to base their business and what license to apply for, like how difficult it is to obtain a license, how high the taxes are, what the requirements for financial structuring are, etc.
We are excited to share the expertise we've accumulated over years of doing business in markets across the world and to give solid, comprehensive advice about the legislative requirements of a variety of jurisdictions. This helps our customers choose the right jurisdiction, better their chances to comply with regulators by trusting us with the applications, and then launch their business trouble-free.
__________________________________________
The Betting Coach: Petr, what about your financial advisory services? What type of help do you provide for operators and why should they seek your expertise in resolving these matters?
Petr Stehlík: The biggest part of our financial services is advising operators on how to establish the right corporate structure. Additionally, choosing a jurisdiction with a solid reputation, a comprehensive licensing regime, and an attractive tax scheme gives an online gaming business the foundation it needs to prosper.
Another critical piece of the puzzle is finding the right bank. That's why part of our advisory is helping operators to open an account at a financial institution that is regarded as trustworthy by regulatory bodies and won't chip away at their profits with unnecessary fees.
__________________________________________
The Betting Coach: Petr, could you tell us a little bit about the importance of compliance – and how Slotegrator can help operators handle gambling regulation?
Petr Stehlík: Compliance is important because disregarding laws and regulations is risky. It may save operators a little bit of money in the short term, but in the long run it very often winds up costing more. Operating without a license puts operators at risk of incurring penalties, and can cause banks to close customer accounts (a big problem) or even provoke relevant authorities to terminate businesses (an even bigger problem).
A big part of compliance is adhering to AML (Anti-Money Laundering) requirements. Setting up the necessary internal procedures, such as carrying out Due Diligence checks and monitoring players and business partners, is vital in order to run a legitimate online gaming business and avoid running into any problems with public authorities and banks.
And last but not least, nearly every regulated jurisdiction nowadays also imposes "responsible gaming" requirements and standards on operators in order to ensure that gaming is conducted in a socially responsible and fair manner.
We offer our help with all aspects of compliance. We can give insight into what the operator's exact obligations are according to applicable laws,and also assist with setting up all internal procedures and drafting necessary documentation. Among other things, we can take care of everything regarding AML, such as providing internal AML policies (which are often required by law) and conducting DD reviews of documents the customer collects from his/her players and business partners. So, in conclusion, we can handle everything clients need in order to avoid any problems with authorities and ensure smooth operation.
__________________________________________
The Betting Coach: Nikolaj, how popular do you expect your legal services to be in different markets? What will the demand for consultations with Slotegrator be like among different niches of clients?
Nikolaj Plugatar: At the moment, the whole European market – except for a few countries – is regulated or on the way to introducing local gambling regulations. Players in the European region are among the world's top spenders, so the demand for licensing services in jurisdictions such as the UK, Spain, and Sweden will grow. The same can be said for the MGA license, as it allows online casino businesses to operate worldwide, and players view Malta as one of the world's most trustworthy jurisdictions.
Most of the requests we receive are for the Curacao license application, with Maltese licensing in second place. This is due to the fact that most operators want to avoid making big investments into gambling and licensing if they don't have any previous experience. The Curacao licence application process looks much easier, costs less, and takes less time compared to some of the other jurisdictions, so this license is really well suited for startups.
Malta, Gibraltar, and the Isle of Man are more affordable for bigger projects with several years of previous experience in the gambling industry, a strong business plan, and a more substantial investment profile.
The LatAm and African markets follow Europe's example. More and more countries in these regions are introducing local regulations. In some countries, the process itself is quite difficult due to regulators' lack of experience. In other countries, local regulations are not as strict and the licensing process looks quite easy, though at the same time it may be quite expensive.
Africa and LatAm are seen as young, emerging markets in the online gambling industry, so I am sure requests for our licensing services in those jurisdictions will be taking off soon, and Slotegrator is ready to meet the challenges and provide consultancy services to customers from any region in the world.
__________________________________________
The Betting Coach: This one's for both of you. How would you describe the value that your newly added services bring to the industry?
Petr Stehlík: Our goal is to provide our customers with straightforward, professional and easy-to-understand advice. Guiding operators through the jungle of online gaming regulations helps to increase the amount of legitimate, responsible operators who operate fair gaming websites. At the end of the day, such a thriving legitimate gaming business is beneficial for everyone involved – players, operators and countries. Also, we believe that the more legitimate operators there are, the better the industry's reputation becomes, as compliance and transparency will gradually contribute to diminishing the stigma that is still typical for the industry.
Nikolaj Plugatar: I suppose our goal is to make the industry more accessible for newcomers who might get scared off by the amount of paperwork they have to complete and the difficulty of the other requirements they have to meet. Ultimately, this will create more opportunities – and more healthy competition. And to reiterate Petr's point, our services could also reduce the number of black and grey operators, as Slotegrator stands firmly on the side of the law. Compliance with regulators brings in more legitimate revenues (and taxes) and casts the gaming business in a more positive light. Improving the industry's reputation can only help to establish trust, attract more players, to create a better and more fair gambling industry ecosystem.