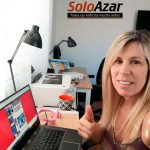 There's only a few more days to go until the SBC Digital Summit Latinoamérica, and our sponsors are getting ready to network, exhibit and attend the jam-packed conference sessions.
María Eugenia Crivellini, Sales Director of SoloAzar, told SBC that with a number of questions yet to be answered on the future of Brazil's betting and gaming markets, the panel sessions on the regulatory framework of Brazil have caught her attention.
What are you looking forward to at the SBC Digital Summit Latinoamérica?
We made an agreement as a media partner with SBC and we are very excited because we believe that this is a good time to meet with our clients and give them our support, taking into account the difficult current situation that we are going through.
What would be your biggest bit of advice for betting and gaming businesses trying to mitigate the impact of COVID-19?
We believe that in situations like the current one, the key is to reinvent yourself. We hope that everyone in the sector will be able to do so to face this new reality.
What are you promoting at SBC Digital Summit Latinoamérica?
Our product, SoloAzar (soloazar.com), is a digital newspaper specialized in the gaming industry, which publishes its two versions daily (Latin America in Spanish and International in English) for 16 years, with the most outstanding news and exclusive coverage of the most important international events in the sector.
A new product was recently launched: BGS (solobgs.com), focused on Betting, eSport and Online Games.
What industry innovation will capture the most attention in 2020?
In this global context of pandemic, we believe that online gaming and all the technology that surrounds it will inevitably capture the most attention this year.
Which operator has impressed you the most in 2020?
I would not want to commit to naming one in particular, since I believe that in the context we live in, everyone is doing their best to keep the business afloat and stand out in the industry.
Which parts of the conference agenda have caught your eye?
I would like to highlight the conference on the regulatory framework in Brazil, as it is highly expected in the gaming industry.