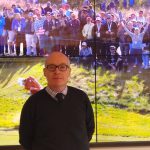 There's only days to go now until Betting on Sports comes to Olympia, and we've been continuing to catch up with the sponsors of our event.
In a chat with Michael Grenham, Managing Director, Racing and Sports Betting from PA Media, who told us that esports will continue to grab the attention of the industry throughout the next few years, and that the panel discussions at #boscon are first-class!
Betting on Sports, held 17-20 September at Olympia London, is the world's leading sports betting industry event. The conference boasts 300 leading industry speakers across 50 sessions, with 120 exhibitors displaying their latest products. 
What are you looking forward to at Betting on Sports?
The cast list of speakers is clearly first-class, with a diverse selection across international territories and subject types. Last year was my first visit at the conference and I found that the inability to be in two places at once was a major challenge as there are that many useful seminars taking place at the same time.
What are you promoting at Betting on Sports?
In the betting industry, PA is best known for the official supply of horse racing and greyhound data and of course that remains core to our proposition. However we will also be showcasing our new esports partnership with PandaScore as well as our huge suite of bespoke (editorial, audio and video) content. On the racing front, we are also excited to be expanding relationships with rights holders to introduce a combined data and streaming product for bookmakers who have the desire for more international thoroughbred and trotting racing from Spain, Belgium, Germany and the Czech Republic.
What industry innovation will capture the most attention in 2019?
Clearly I have a vested interest, but I believe the key battleground for innovation will be esports. We are thrilled to be working with PandaScore who have an excellent proposition underpinned by AI. I firmly believe that the providers who deliver innovation and excellent service will be handsomely rewarded. Esports remains an area of great potential – and perhaps mystery!
Which sports betting operator has impressed you the most in 2019?
All the operators who have shown serious commitment to responsible gambling are the ones who have impressed me. Given the media and political climate around betting in the UK, the industry desperately needed to make some positive moves on this issue.
What sports betting partnership has stood out in the past 12 months?
With so many good ones to mention, particularly in the US, it would be unfair to pick just one!
If you could attend one sporting event, what would it be?
Undoubtedly the US Masters at Augusta. It's an iconic course where the best players thrive and it always provides drama in an amazing arena. The other one would be Leeds United's next appearance in the Champions League final, but that one is looking a bit difficult to estimate time-wise…
Which parts of the conference agenda have caught your eye?
Wednesday's sessions on 'European Markets' and 'USA In Focus' are eye-catching, but 'Sport In Focus' probably wins the day as I'm particularly interested in the discussions around esports and the future of the SP in UK horse racing. The next day, it's probably a close call between '2020 Vision' and 'Technology In Focus'. That said, there are a host of topics that really capture my imagination.
Delegates will be treated to world-class hospitality with plenty of business and networking opportunities at some of London's most iconic venues including the Natural History Museum. For more information about the event, please visit the Betting on Sports website.